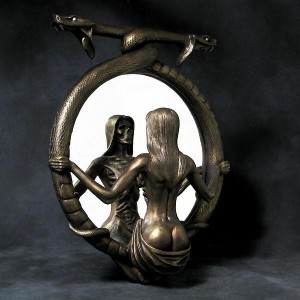 I've been discussing the similarities between evolutionary psychology and "regular" psychology, and today I want to discuss a school of thought called Terror Management Theory. Psychology Today says:
The terror refered to in terror management theory (TMT) is that which is brought on by the awareness of the inevitible death of the self. According to TMT, the anxiety caused by mortality is a major motivator behind many human behaviors and cognitions, including self-esteem, ethno/religio-centrism, and even love.
I independently came up with a similar viewpoint in a series of posts I did early in the blog's history called The Immortality Drive series. I never finished that series of posts because I discovered while in the middle of it that there was a famous Pulitzer Prize winning book that already discussed the same topic at length called The Denial of Death
by Ernest Becker. I decided to hold off on writing any more about the drive for immortality and denial of death until I read the book. I eventually did read the book and it was far deeper and more mind-blowing than the extent to which I had thought the subject through, and it made me really glad I stopped when I did.
I've been itching to write an indepth review of the book, but I feel I need to reread it first, but the gist of it comes down to the idea that the terror of inevitable death and how we choose to cope with that inevitability in our everyday lives motivates everything we do in life. The need to relieve this death anxiety motivates much of our behavior, like our need to feel better than other people, our need to have high self-esteem, our need to elevate people to heroic levels and create belief systems that we feel our bigger than ourselves, among other tendencies.
As Becker says in The Denial of Death
:
the problem of heroics is the central one of human life, that it goes deeper into human nature than anything else because it is based on organismic narcissism and on the child's need for self-esteem as the condition for his life. Society itself is a codified hero system, which means that society everywhere is a living myth of the significance of human life, a defiant creation of meaning.
Becker goes on to say the human race is one that tends toward species narcissism, and if you look at much of our fiction you can see how this is so, as much of it is dedicated to what we call "the indomitable human spirit" and the fascination that beings like gods, demigods, demons, aliens, and supernatural beings have with the human race. Robots depicted as trying to learn to be human is a popular trope in fiction, as is the higher power that wants to conquer or eliminate humankind, which wins its reprieve by showing it's innate greatness. Or how about the powerful being who falls in love with the human race despite its flaws because he recognizes its potential for greatness and makes earth his adopted home and even goes against his own race to defend them? Prometheus even stole fire from the gods on the behalf of the human race and was punished for it, with the implication being that Prometheus did it because he believed in the humankind's potential, and that same human potential was found threatening even to Zeus, the ruler of the gods. This species narcissism is also present in the Judeo-Christian tradition, where God is said to have made man in his image. We are the only ones with souls, while it is debated whether or not any other species is allowed in heaven. The narcissism of the human species is so built into the fabric of society, our belief systems and myths, that it's very hard to step outside of it and get a neutral perspective from which to observe it.
How is all this reflected in personal psychology? Individuals obsess over surviving and reproducing, and the field of psychology is about the cognitive adaptations, behavioral patterns, and coping systems we come up with in order to maximize our chances of surviving and reproducing. These cognitive adaptations, behavioral patterns, and coping systems are what Alfred Adler called a "life style." (Adler coined the term "life style," but what he meant by it is different than what the term means today.) "Personalities" are another term that can be used for these adaptation, patterns, and coping systems we develop to deal with life. According to Becker, we develop our approaches to life and the matters of surviving and reproducing in order to deal with the terror of inevitable death. By prolonging our lives as long as possible, by passing our genes into the next generation, by feeling a connection to past generations of our family, and by believing in a transcendent figure or belief system bigger than ourselves, we can feel like we transcend death.
How is this reflected in evolutionary psychology? Evolution is about the survival and reproduction of whole populations, and evolutionary psychology is about the cognitive adaptations, behavioral patterns, and coping systems human populations have undergone in order to maximize the survival and reproduction of the species. We call these psychological adaptations human nature, and it is roughly analagous to a personality, or what Adler described as a "lifestyle" in an individual. Just like individuals according to Terror Management Theory obsess over their personal deaths, our species obsesses over extinction, which is species-wide death. Surviving and reproducing is a way for the species to reduce its anxiety over extinction and simulate a feeling of immortality. By prolonging the existence of the currently living members of the species as long as possible, creating future generations of the human race, by feeling a connection to past generations of the human race, and by believing in a transcendent figure or belief system bigger than the human race, the human race can feel like it transcends extinction.
Just like the mental health of the individual at any given moment is largely the result of how he deals with the idea of his own mortality, the collective mental health of the human race is largely the result of how it deals with the possiblity of its own extinction.
Recommended Reading:
The Denial of Death
by Ernest Becker
This book is a major mindfuck, to put it mildly. I can't express enough how much of a paradigm shift this book created in my worldview. You can read more about it in the Recommended Reading page on the sidebar. It's under the "Essentials and Fundamentals" section.
The Wikipedia page and PsychWiki pages on Terror Management Theory go into it in way more depth than I can in a short blog post.