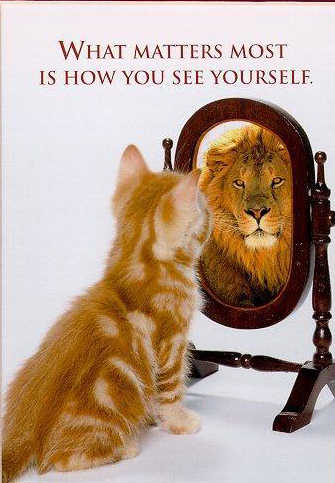 The term "grandiosity gap" is a term I believe was coined by Sam Vaknin, a self-proclaimed narcissist who also runs a website about narcissism and has become a controversial expert in the field. He didn't invent the concept, as many psychologists past and present have described a similar phenomenon, but to my knowledge he was the first to use the term "grandiosity gap" to describe the concept:
A grandiosity gap is the gap between a person's grandiose fantasies and their actual mundane reality. It's a form of cognitive dissonance, where the mind is confronted by two conflicting beliefs and has to figure out how to reconcile them. All of us grow up with a false, idealized self, that vision of perfection we feel we must be in order to be deemed acceptable and a success. For some people, this false, idealized self is more grandiose than average. They do their best to pretend both to themselves and to others that this perfectionistic self-image is the reality, but this gets increasingly harder with age, especially as the real life continues to stall out and the grandiosity gap continues to increase.
Much like you don't have to be a full-blown clinical narcissist in order to desire narcissistic supply, you don't need to be one to experience grandiosity gaps either. Anytime a reality you face in your life fails to live up to the idealized image you had of it, you are experiencing a grandiosity gap, even if you aren't a clinical narcissist, although the grandiosity gaps the more extreme narcissist experiences are far more extreme and distressing.
When people are forced to face grandiosity gaps, it is a crucial moment. Some people respond by facing and accepting reality, and deciding to meet it on its own terms. This is the healthy response.
Others decide to go deeper into delusional fantasy and use defense mechanisms to overcompensate even further. They will lie, bullshit, or tell half-truths to themselves and others, accumulate a list of scapegoats to blame for their failures in life, rationalize away any evidence of their contributions to their own problems, use selective memory, daydream more frequently and intensely, recall events and reinterpret surrounding reality in outrageously distorted, self-aggrandizing ways, or do whatever else they feel necessary to protect their egos and soothe the deep sting of disillusionment.
Others, rather the overcompensate further, go the opposite extreme and just surrender, casting aside all grandiosity to adopt a new subhuman identity as a depressed self-pitying failure. This type may also start avoiding reality by withdrawing socially from life as much as possible.
Two classic fictional characters that allow us to see grandiosity gaps at their self-destructive worst are Emma Bovary from "Madame Bovary" and Blanche Dubois from "A Streetcar Named Desire."